Albertsons
Company Name: Albertsons
Address:
2334 Central Avenue, Billings, MT 59102
Contact Manager:
Dan Sloan
Web site:
www.albertsons.com
SIC code:
541105
Industry group:
FOOD STORES
,
Business category:
GROCERY STORES
,
Subcategory:
GROCERS-RETAIL
Gross Annual Sales (Revenue):
USD $ 15,470,000
Overall:
Albertsons is a business categorized under grocery stores, which is part of the larger category food stores. Albertsons is located at the address 2334 Central Avenue, Billings, MT 59102 in Billings, Montana 59102-4698. The Manager is Dan Sloan who can be contacted at (406)656-8160.

Description:
Grocery | Drugstores,
Working hours:
Mon: 06:00 am - 11:00 pm, Tue: 06:00 am - 11:00 pm, Wed: 06:00 am - 11:00 pm, Thu: 06:00 am - 11:00 pm, Fri: 06:00 am - 11:00 pm, Sat: 06:00 am - 11:00 pm, Sun: 06:00 am - 11:00 pm
Tags:
Grocery store
Grocery delivery service
In summary:
Prices are reasonable, food is of good quality, staff remembers my face.
Meats, produce, cleaning supplies, and great deals on beer.
The place is clean and good fruit and fresh veggie selections
Recommended:
Click here to Inform about a mistake
64
Rating:
Location & access map for "Albertsons"
Photo from "Albertsons"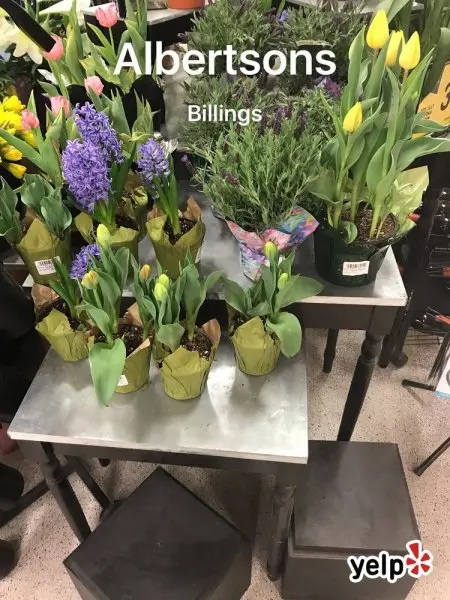 ---
Albertsons (Meat, Fish, Fruit, Grocery Food Stores)

about:
Review/Comment
Name: W.H.
Message: I absolutely love the bakery, thay beat Krispy kream by a mile.
Name: A.B.
Message: They have everything you may need including gift cards most Albertsons has good stuff there n the prices of some things there a lil pricey but its worth it n love the steaks n meats there..
Name: D.G.
Message: Wow what a cool store they have everything especially the deli whatever finally.
Name: K.D.
Message: Great store. Nice and clean, the pharmacy crew was very friendly!
Name: S.L.
Message: I generally like Albertsons. Delli guy wasn't very nice but hey maybe he having a bad day. Not a huge deal very common anymore but I tried to just get a couple of things for a quick bite to eat for the wife and I. 2 burritos and 4 chicken strips personal cup of ranch 1 small bag of chips and 2 drinks shouldn't cost as much as a sit down restaurant. It just silly.
Name: M.W.
Message: Love to shop here shelves are stocked friendly clean great deals watch your ads.
Name: L.E.
Message: We visit several times a week since it is so close. If you use the app you can save money on items and earn free items through their rewards. We use it all the time. Their meat is the best!
Name: J.C.
Message: I can almost always find what I'm looking for. Great quality produce at fair prices. Great buys on sale items. Short wait times when checking out. Ample parking. Friendly staff. Really great bakery items. Aisles are well marked making it easy to find what you're looking for.